LetsVPN Review
Updated Nov 14, 2023
LetsVPN
Ranked #27 out of 28 VPNs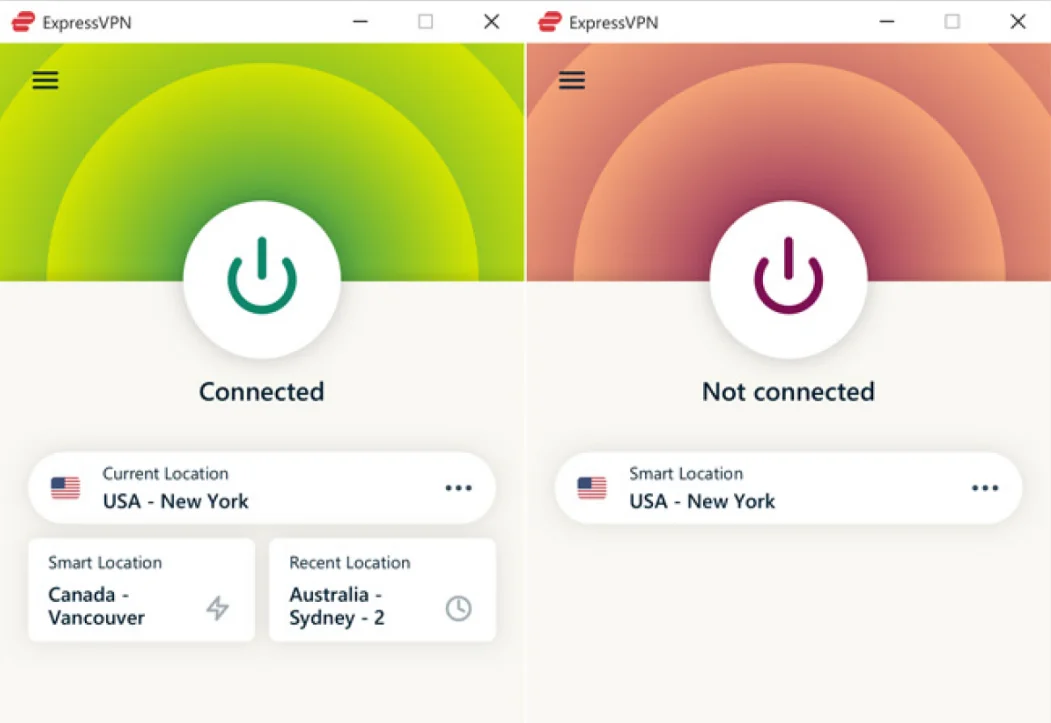 Our Research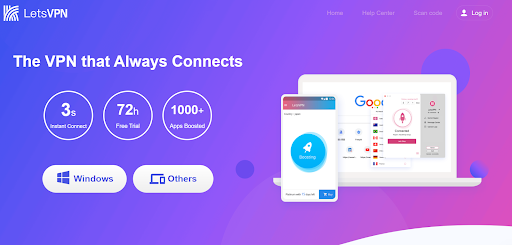 In a time where private data is the most valuable online product and our online presence can easily be abused, it's important to equip yourself with a powerful VPN software to keep your online presence anonymous. But choosing the right VPN service in the sea of both free and paid services is challenging. LetsVPN is a modern VPN solution that has exponentially grown in popularity. In this article, we'll get to the bottom of what LetsVPN offers to its users and discuss its advantages and disadvantages.
LetsVPN is a powerful VPN developed by LetsGo Network, a consulting firm that operates around the world. LetsVPN is a free VPN service, which makes a lot of people attracted to it. However, there's a lot of controversy and suspicion going on around the free VPN software. For example, free VPN software is believed to be used to sell private data to advertisers, data consulting companies, and even hackers who use the data to train their AI models that could penetrate networks.
This article thoroughly explores the bells and whistles offered by LetsVPN and checks whether this freemium VPN service offers enough protection for internet surfing, torrenting, gaming, and other activities.
LetsVPN Key Features
| | | | |
| --- | --- | --- | --- |
| Data cap | Unlimited | Speed(in MBPS) | 50 |
| Logging Policy | No Logs | Data Leaks | No |
| Jurisdicstion | NA | Servers | 100-1000 |
| IP Addresses | - | Countries | 50 |
| US Nextflix | Yes | Torrenting | Unlimited |
| Simul. Connection | 3 | Works In China | Yes |
| Kill Switch | Yes | Cheapest Price | $ |
| Money Back Guarantee(in Days) | - | VPN Site | https://letsvpn.world/ |
Why Trust Our Review?
We've spent thousands of hours testing and reviewing 56 VPN services using our impartial review process to recommend you the best VPN software.
Our Research Methodology
LetsVPN Pros & Cons
Pros
Great features such as a kill switch, high-end encryption, and others
Strong no-logs policy
Ideal for playing games
Good Customer Support
Works in China
Cons
Not much information is available on the official website which may confuse users
Sometimes, it disconnects from the server and can't reconnect for no reason
Lacks some key features and encryption protocols to make it even safer
Uses third-party cookies and analytical tools
Great features such as a kill switch, high-end encryption, and others
Strong no-logs policy
Ideal for playing games
Good Customer Support
Works in China
Not much information is available on the official website which may confuse users
Sometimes, it disconnects from the server and can't reconnect for no reason
Lacks some key features and encryption protocols to make it even safer
Uses third-party cookies and analytical tools
Streaming Platform Compatibility
Ranked #27 out of 28 VPNs
Now that we reviewed the privacy and security aspects of LetsVPN, let's look at how it handles streaming. We already established that thanks to hundreds, if not thousands of servers, LetsVPN lets you access any website from anywhere in the world, including China.
But how do streaming services work with it? Easily! We successfully connected LetsVPN to streaming platforms such as Netflix, Disney+, Hulu, HBO Max and more! Just choose the country from which you want to connect and LetsVPN will do the work.
Best part? The streaming and downloading speed and reliability won't be affected by the use of this VPN, it'll be just as reliable as if you used a premium service.
| Streaming Platform | Works with LetsVPN |
| --- | --- |
| Sling TV | Yes |
| Amazon Prime Video | Yes |
| BBC iPlayer | Yes |
| Disney+ | Yes |
| Netflix US | Yes |
| HBO Max | Yes |
| Vudu | Yes |
| Hulu | Yes |
Gaming Performance
Gaming is the main selling point for LetsVPN, especially mobile gaming. LetsVPN is less popular around computer games because it may occasionally cause lag, depending on the game you play and what server you're playing on. However, when it comes to mobile games, regardless of genre and play style, LetsVPN is an amazing choice.
It helps unlock the geographical ban that some games have, without affecting the performance and connection if the game is online. LetsVPN allows you to play your favorite video games with your friends without risking your privacy.
Privacy And Logging Policy
Ranked #27 out of 28 VPNs
According to LetsVPN policy, they don't keep logs of any data that you may share or use throughout the use of this VPN service. With that in mind, they don't collect or log traffic data. They don't even have information about your email address, phone number, or any other personal information.
One thing that causes concern is the use of third-party diagnostics tools and services. Although one of them is Fabric, a Google Service, they also use third-party cookies and analytics tools. They use them to track sales and potential advertisements.
Features like Kill Switch and Split Tunneling are also supposed to keep your privacy at a high level. What's concerning, however, is that the official site of Lets VPN doesn't provide much information about how it handles encryption and preservation of your private data.
| Information Logged | Yes/No |
| --- | --- |
| Browsing Activity | No |
| Device Information | No |
| DNS Queries | Yes |
| Individual Bandwidth Used | No |
| Individual Connection Timestamps | Yes |
| ISP | Yes |
| No of Sim. Connections | Yes |
| Originating IP Address | No |
| Personal Information | No |
| VPN Server IP | No |
| VPN Server Location | No |
| Date of Lost Connection | Yes |
Security and Encryption
Ranked #27 out of 28 VPNs
LetsVPN has powerful security standards and encryption in order to keep you secure and protected online. It boasts the powerful AES-256-bit encryption algorithm which keeps all of your data, including login data protected from third-party intruders. You can safely browse and connect to other servers, as well as stream your favorite TV shows and play your favorite games.
In addition to powerful encryption, LetsVPN also includes features like IPv6 and IPv4 blocking and prevents DNS leaks. Since the app is more suitable for mobile devices, it's flexible and has a "Quick Connect" setting. Nevertheless, each connection is checked before commencing. If some suspicious network activity gets detected, the kill switch will disconnect your device from the network.
It's worth noting that LetsVPN prioritizes speed over security due to the network protocols it uses. Nevertheless, it'll pre-scope every address for security before redirecting you to it.
| Protocols | Available in LetsVPN |
| --- | --- |
| IKEv2 | Yes |
| OpenVPN | Yes |
| WireGuard | NA |
| Encryption | Available with LetsVPN |
| --- | --- |
| AES-128 | No |
| AES-192 | No |
| AES-256 | Yes |
| Blowfish | NA |
| ChaCha20 | NA |
| Security | Available with LetsVPN |
| --- | --- |
| DNS-leak blocking | Yes |
| First-party DNS | NA |
| IPv6 Blocking | Yes |
| Supports TCP 443 port | Yes |
| VPN Kill Switch | Yes |
| WEB RTC Leak Blocking | NA |
| Advanced Features | Available in LetsVPN |
| --- | --- |
| Ad Blocking | No |
| Dedicated IP Address | Yes |
| Double VPN | No |
| Smart DNS | No |
| Static IP | No |
| SOCKS | NA |
| Split Tunneling | Yes |
| Tor Over VPN Server | Yes |
| Tracker Blocker | No |
Pricing Structure
Ranked #27 out of 28 VPNs
LetsVPN is 100% free to download and use. Most of its basic features are available for free. When it comes to mobile apps, they're also free but have in-app purchases. Those in-app purchases are distributed in different packages. For example, you may be able to use the VPN in China if you purchase a Gold or Platinum package. The subscription may last from a few days and a week up to a month.
It's a popular VPN choice because users may subscribe to only a few day's use for a certain feature that they may need to use at the moment. That makes it ideal for people who travel.
Does LetsVPN Support Torrenting?
Ranked #27 out of 28 VPNs
Thanks to its P2P support, LetsVPN supports torrenting. However, you need to be careful when engaging in this activity. Torrenting is often used for downloading pirated and illegal content such as movies, games, software, and other files.
In many countries, especially the EU and the USA, torrenting is deemed illegal and governments have powerful assets that allow them to track down pirates. If you want to resort to torrenting, be cautious in choosing which server you'll connect to.
This article doesn't encourage online piracy via torrenting. The content provided in this section is solely for informational purpose.
In Which Countries Does LetsVPN Have Its Servers?
Ranked #27 out of 28 VPNs
The LetsVPN website doesn't provide much information about where LetsVPN hosts its servers. However, after a close inspection of their social media accounts, we found that the majority of their servers are scattered across the world. You can connect to LetsVPN servers in USA, Canada, Brazil, Dominican Republic, Mexico, Greece, UK, France, Portugal, Spain, Morocco, Russia, China, Japan, and many others.
Do note that different types of content may be restricted in certain countries. While you may be able to connect to different servers from China, connecting to the servers located in China may leave you banned from using certain apps and social media. Always connect to the servers in countries after getting informed about the type of content that is available via those servers.
Does LetsVPN Come with an Ad Blocker?
Ranked #27 out of 28 VPNs
Ad Blocker is usually not a feature found in VPN services, especially those that are free. LetsVPN is no exception to that practice and it doesn't have strong mechanisms that can help with ad-blocking.
Still, if you want to use LetsVPN and be able to block ads, there are plenty of ad blockers that you can use. Most of them are available as browser extensions. They're free and effective at blocking ads.
Platform Compatibility
Ranked #27 out of 28 VPNs
At the time of writing this review, LetsVPN is available on four platforms: Windows, MacOS, Android, and iOS. You can easily download the app for your Windows desktop or MacOS system, while the Android and iOS apps can be downloaded from their respective app stores.
One huge drawback of LetsVPN is that there is no support for Linux operating systems or other Debian-based distributions. Nevertheless, LetsVPN is targeting users who aren't too tech-savvy and can enable the app without too much hassle.
Browser Compatibility and Extensions Available
You can easily access LetsVPN from any web browser. However, given that Opera has its own VPN, you likely won't need to use LetsVPN with it. You can access it from Chrome, Mozilla Firefox, Safari, and other web browsers.
At the moment, LetsVPN doesn't have any extensions or add-ons that could enable you to use it directly from the browser. However, the desktop app ensures that the web browsing experience is smooth and seamless.
Ease of Use
Ranked #27 out of 28 VPNs
It's no secret that VPNs may look like they're too complex to use to some people without technical knowledge and experience with networking and cybersecurity. Luckily, software like LetsVPN allows you to easily download and install all the necessary packages to use the software seamlessly.
How Easy Is It to Set Up?
LetsVPN is quite easy to set up. All it takes is to download the app, go through the installation wizard, and you'll be ready to use the software without a problem. Depending on the platform you want to run LetsVPN on, you will click the download button and install the software.
If you can't find the mobile app in the Google Play Store or Apple Store, there's a QR code for you to scan from the official website that you can use to download the app from your respective stores. After that, it's all smooth sailing as the wizard will instruct you through the installation process, while your mobile device will install the packages and update them automatically.
How Easy It Is to Use for a New User?
New users tend to shy away from using VPN services, mainly because they're scared they won't be able to set it up or use it properly. But downloading and installing LetsVPN is as easy as downloading and installing any other app on your system, especially on your mobile device.
There's also a cool Help Center that allows you to read more about the installation process and how to set up your VPN, choose country and server, and enable different features that LetsVPN offers. Keep in mind that if you want to use LetsVPN with multiple devices, you will need to create an account and then add your devices manually.
Customer Support
Ranked #27 out of 28 VPNs
LetsVPN has a more than decent customer service that is available 24/7 via email or chat. On the website, you may send a message and they'll reply within 10 minutes. Customer support takes all issues seriously and will go into detail to help you mitigate problems.
They are also active on Google Play Store and App Store for iOS users. If someone is not satisfied with the service and chooses to leave a bad review, they'll go above and beyond to help unsatisfied users overcome the problem.
| Customer Support | Available in LetsVPN |
| --- | --- |
| 24/7 Live Chat Support | No |
| 24/7 Email Support | Yes |
| ChatBot | No |
| Live Chat Support | Yes |
| Email (Ticketing) | Yes |
| Email Via Online Form | No |
| Tutorial Videos | No |
| Resource Center | Yes |
Final Verdict
Ranked #27 out of 28 VPNs
LetsVPN is a popular freemium VPN service provider that recently appeared on the VPN market. For most parts, it's a reliable option for playing games and using streaming platforms no matter where you are. It lacks some key features, but it's a great option for those who travel to countries like China, but are restricted by budget.
Frequently Asked Questions
Is LetsVPN Safe? -

LetsVPN is equipped with high-level security and privacy features that enable you to stay anonymous and secure on the internet.

Is LetsVPN Free? +

LetsVPN is a freemium product. While the most basic features are free to use and available at all times, some features are hidden behind a paywall. Still, LetsVPN offers a 72-hour free trial on those features too.

Can You Play Pokemon Go With LetsVPN? +

Yes, it's possible to play Pokemon Go with LetsVPN. However, you will also need to get a good Location Spoofer that will bypass the GPS restrictions set by the developers.