VPN is a go-to option for many people who value their privacy and want to stay anonymous while browsing the web. It's also the most effective way to access websites that are restricted based on your location. However, setting up a VPN can be a bit tricky, especially for Apple users. Apple devices come in different forms, such as the iPhone, Mac and Apple TV.
The process of connecting to a VPN can vary from one device to another, making it even more challenging. In this series of articles, we will be guiding you on how to set up a VPN on various Apple products, starting with the iPhone. This article will walk you through the steps and help you get your VPN up and running on your Apple iPhone.
Setting Up and Using VPN on Apple iPhone
Before we get to setting up the VPN on an iPhone, it is important to choose a secure VPN provider. Make sure to select a VPN provider that offers encryption, has robust privacy policies, offers a wide range of server locations, and most importantly, aligns with your budget. Some popular fastest VPN providers to consider are ExpressVPN, NordVPN, ProtonVPN, among others. Now let's move on to the setup.
Download your preferred VPN app from the App Store to your iPhone.
Create an account and sign in with your VPN provider.
Each provider has a different way of setting up but once you do, you will get a prompt to select a server location to connect to.
You will then be alerted that the app needs a new VPN profile on the device.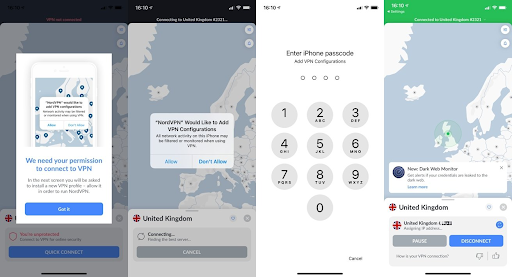 5. Following that, you will get another prompt to add VPN configurations.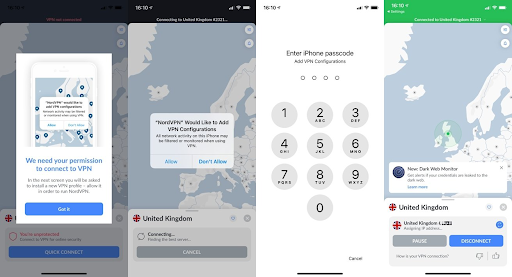 6. Once you allow it, you will have to enter your iPhone password so they can add the VPN configurations.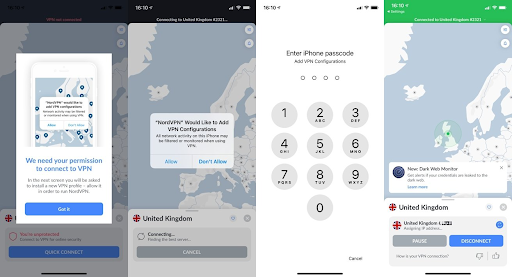 7. Once you authenticate, your VPN setup will be complete.
8. To be sure that you are indeed connected through a VPN, you can see a VPN icon in the top-right corner of your screen. And you are good to go.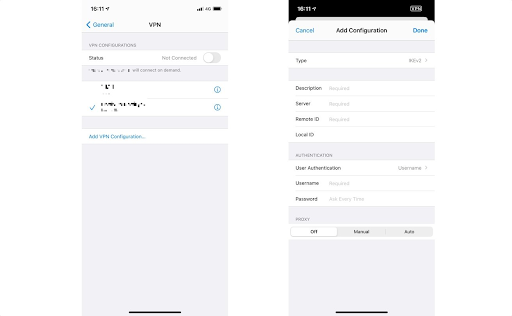 Tips and Best Practices
Now you know how to set up a VPN on your iPhone, but to make sure it continues to run smoothly, you may want to consider some of these tips.
Keeping the VPN app running on the iPhone
If you want a consistent VPN connection, you can consider enabling automatically starting the VPN app when you switch on your device. This would make sure your VPN connection is immediately established, which means immediate protection. You should also update to the latest VPN app versions to have any security loopholes plugged.
Choosing a Secure and Reliable VPN Provider
Earlier in this article, we mentioned how choosing a VPN provider is important. First and foremost, research how good your choice of VPN provider is. Does it have a good track record with positive user reviews? Do they offer reliable services and prioritize the customers? Click here for some useful tips on choosing the right VPN provider.
You must make sure your VPN provider supports encryption protocols such as OpenVPN or IKRv2. Also, ensure if they have a strict no-logs policy, meaning they wouldn't store and sell information about your online activities.
Considering the server location for specific needs
One of the most important factors to look out for is speed. So when you configure your VPN app, make sure it connects to the fastest available server automatically. Also make sure your VPN provider has servers close to your actual location. This will help minimize latency and therefore improve speed.
The fastest available server is the ideal option in most cases, but not necessarily to get around censorship. If you want to surpass geo-blocking to access certain content unavailable at your location, choose a VPN provider that has servers in locations where it is available. This will help you access that specific content.
Conclusion
This article demonstrated how you can set up a VPN on your Apple iPhone. This setup essentially adds an extra layer of protection and flexibility to your online activities. Now you can access geo-restricted content, protect your sensitive data, get around censorship and browse the internet with confidence. But keep in mind the best practices as well that were discussed to have a smooth experience with your VPN providers.