As a cybersecurity researcher, I regularly test the top VPNs in the market to find the most reliable and trustworthy ones. Surfshark is among my top recommendations due to its impressive features and user-friendly interface.
Sometimes, however, you might need to cancel your VPN subscription for one reason or another. Maybe you need some features not available on Surfshark, or perhaps you need something more affordable. Whatever the reason, it's important to understand how to cancel Surfshark so you don't keep paying for something you no longer use.
Below, I'll take you through the step-by-step process of canceling Surfshark and initiating the refund request. Surfshark offers a 30-day money-back guarantee, so if you cancel within this period, you'll get a full refund.
It's important to note that using the internet without a VPN exposes you to various online security risks. If Surfshark doesn't work for you, I recommend ExpressVPN as a faster and more reliable alternative. Plus, it has a vast network of high-speed servers in 100+ countries, and you can try it risk-free for 30 days.
Reasons for Canceling Your Surfshark Subscription
There are so many reasons why you might want to cancel your Surfshark subscription. Here are some common ones:
Changing needs: Over time, your VPN requirements might change. For example, if you bought Surfshark to access local content while traveling, you might no longer require this feature once you return to your home country.
Switching to a different VPN: Sometimes, you might find another VPN that better suits your needs, offers better performance, or has more appealing features. In such situations, it makes sense to cancel Surfshark VPN.
Technical issues: If you've encountered persistent technical problems with Surfshark, such as compatibility issues with your devices, it might make sense to cancel your Surfshark subscription and find a more reliable option. However, it's a good idea to talk to Surfshark's customer support team to try and resolve the issue before canceling.
Pausing your VPN usage: Sometimes, you might need to suspend your VPN usage for a short time, such as during a vacation or when you're using a network that doesn't allow VPN connections. In such cases, it's a good idea to cancel Surfshark temporarily.
Better deals or discounts: VPN providers occasionally offer promotions, coupons, or better pricing plans. If you find a more cost-effective option for your needs, it might sometimes make sense to cancel your existing subscription to take advantage of the savings.
Step-By-Step Process of How to Cancel Surfshark Through The Website
Surfshark doesn't allow you to cancel your subscription through the account settings on the Surfshark app. Instead, you have to log in to your account on the website and cancel from there.
Here's the step-by-step guide on how to cancel Surfshark and request a refund:
Log into your Surfshark account: Open the Surfshark website, click the login button, then enter your username and password to access your Surfshark account.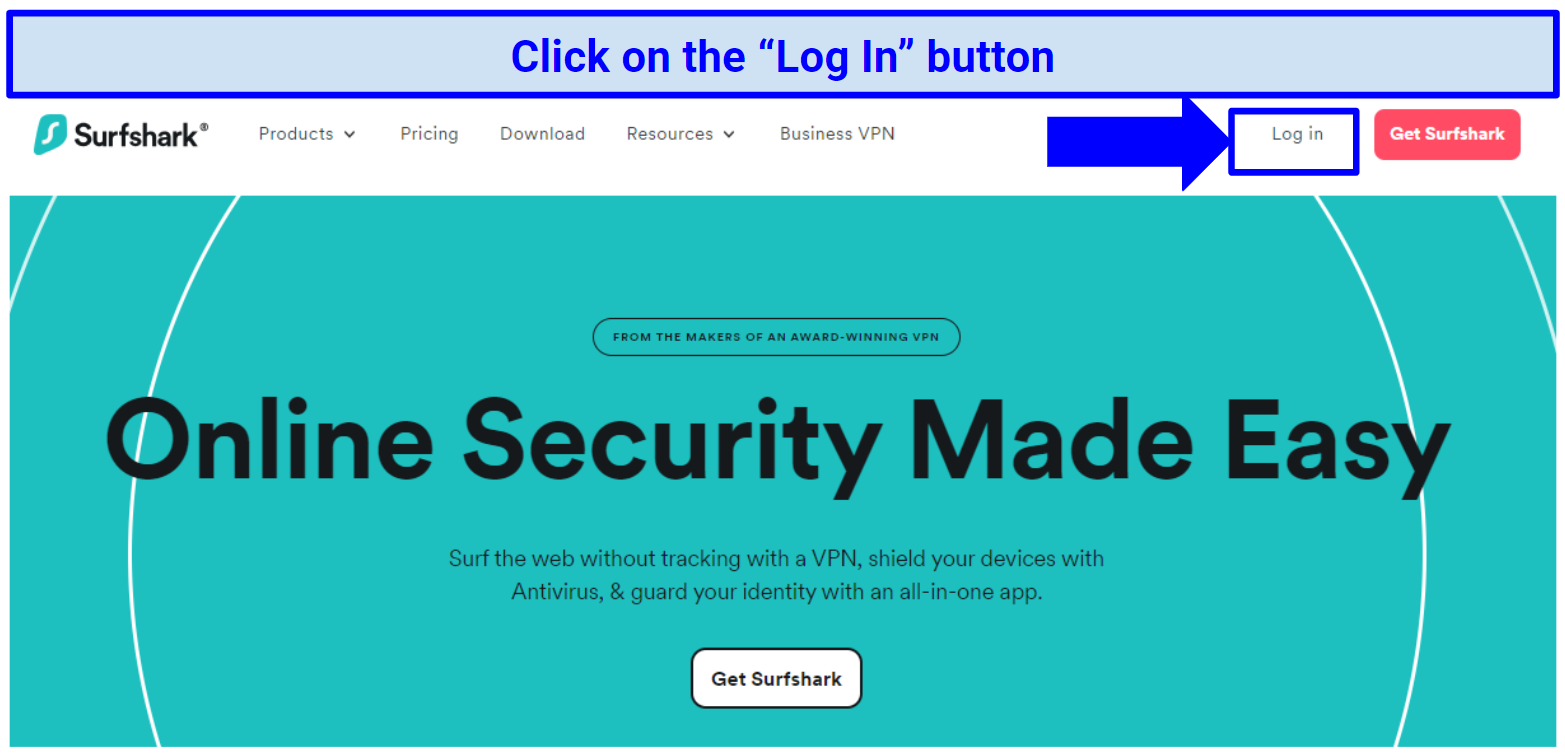 Navigate to the Help Center: After logging in, click on My Account in the top right corner, then click on Help Center.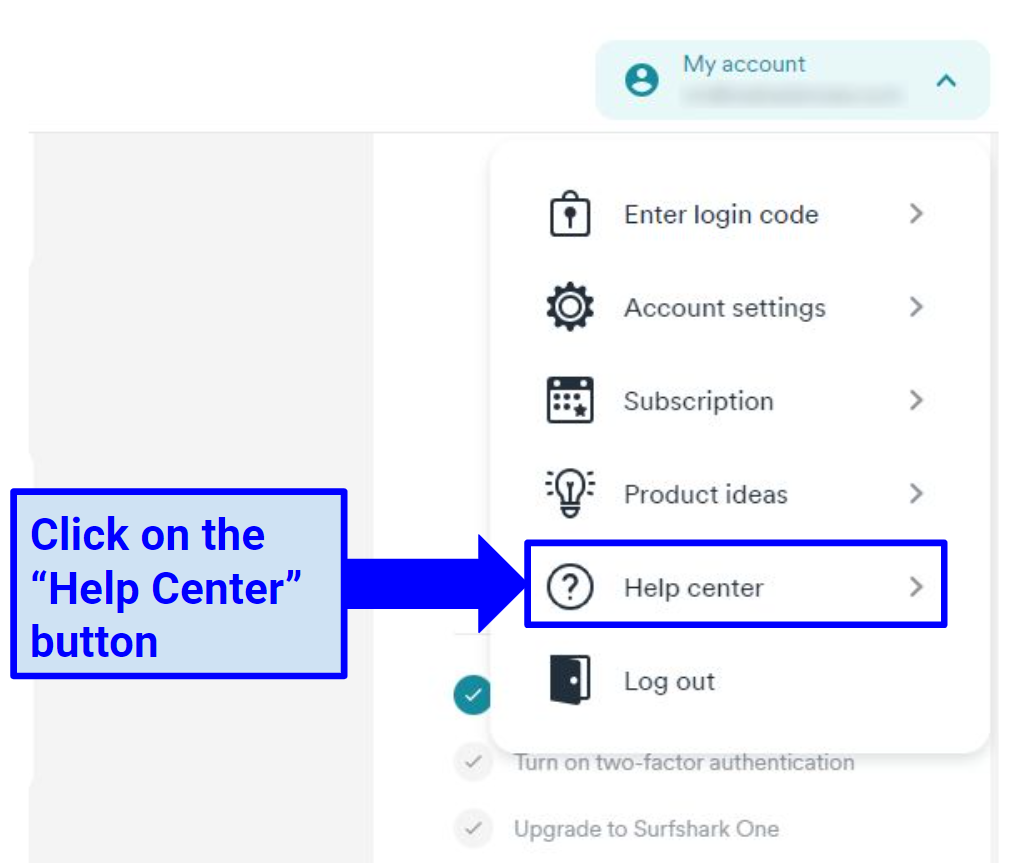 Find the live chat option: Scroll to the bottom of the page and click on Chat with us to initiate a chat that will guide you on how to cancel Surfshark.

Request to cancel your subscription: Provide your name and email address, write that you wish to cancel Surfshark subscription, and then click Start chat.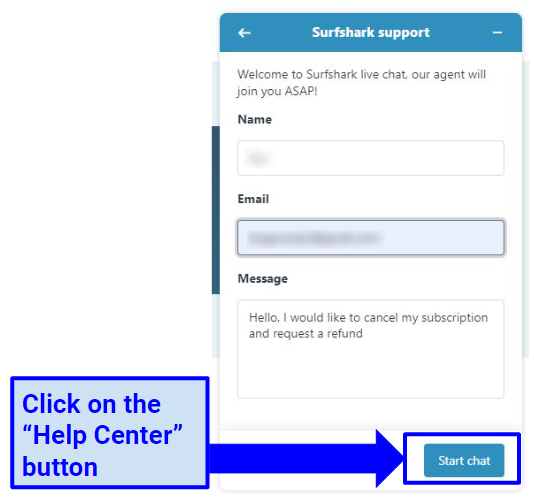 Select your purchase method: The Surfshark bot will respond to your message within seconds and ask you to select where you purchased your Surfshark VPN subscription.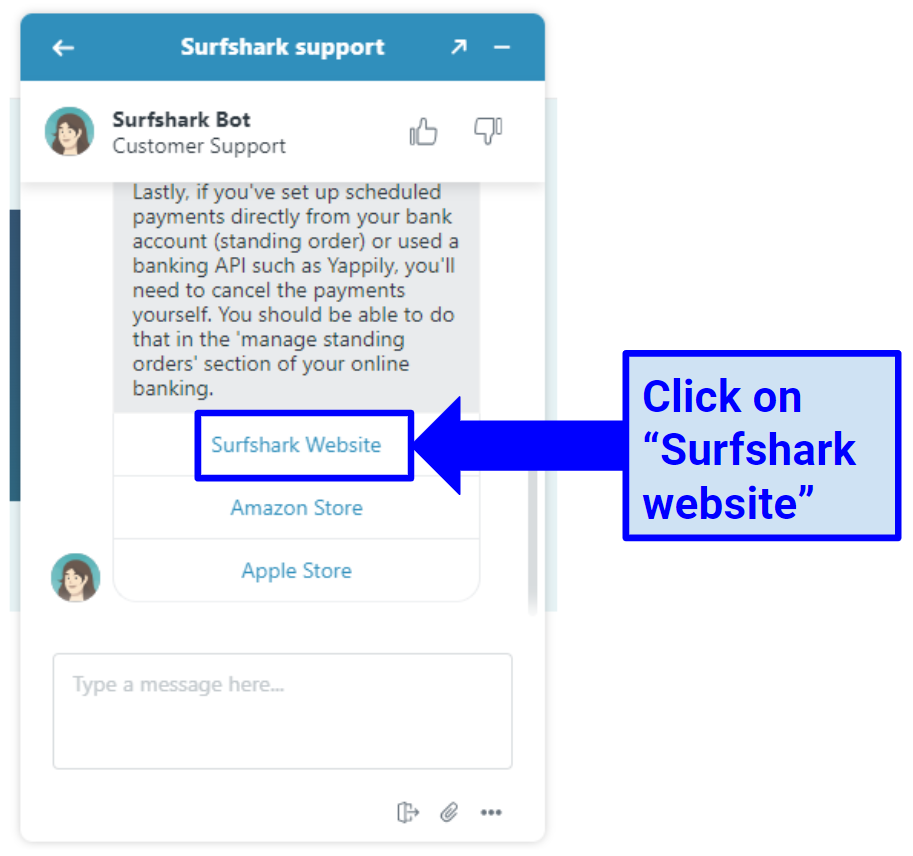 Click on the cancellation link: The bot will provide a link to cancel the Surfshark VPN subscription. Click on the link to confirm cancellation.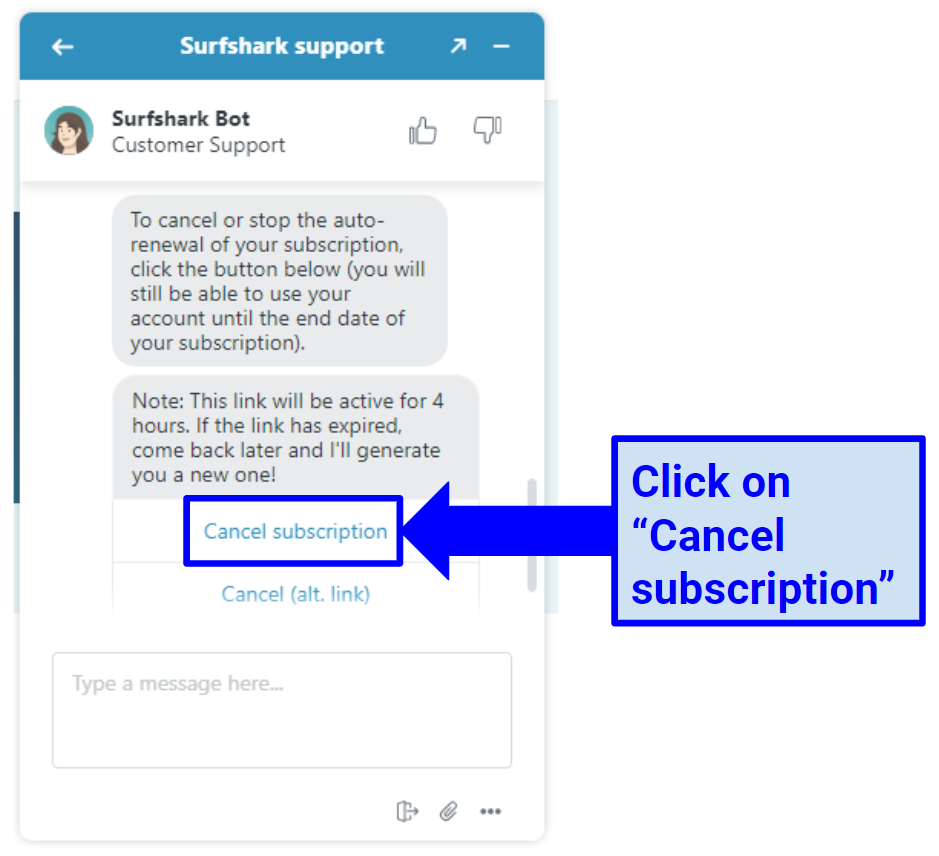 Provide a reason for canceling: Next, you need to explain why you're canceling Surfshark. I picked "I accomplished my goal."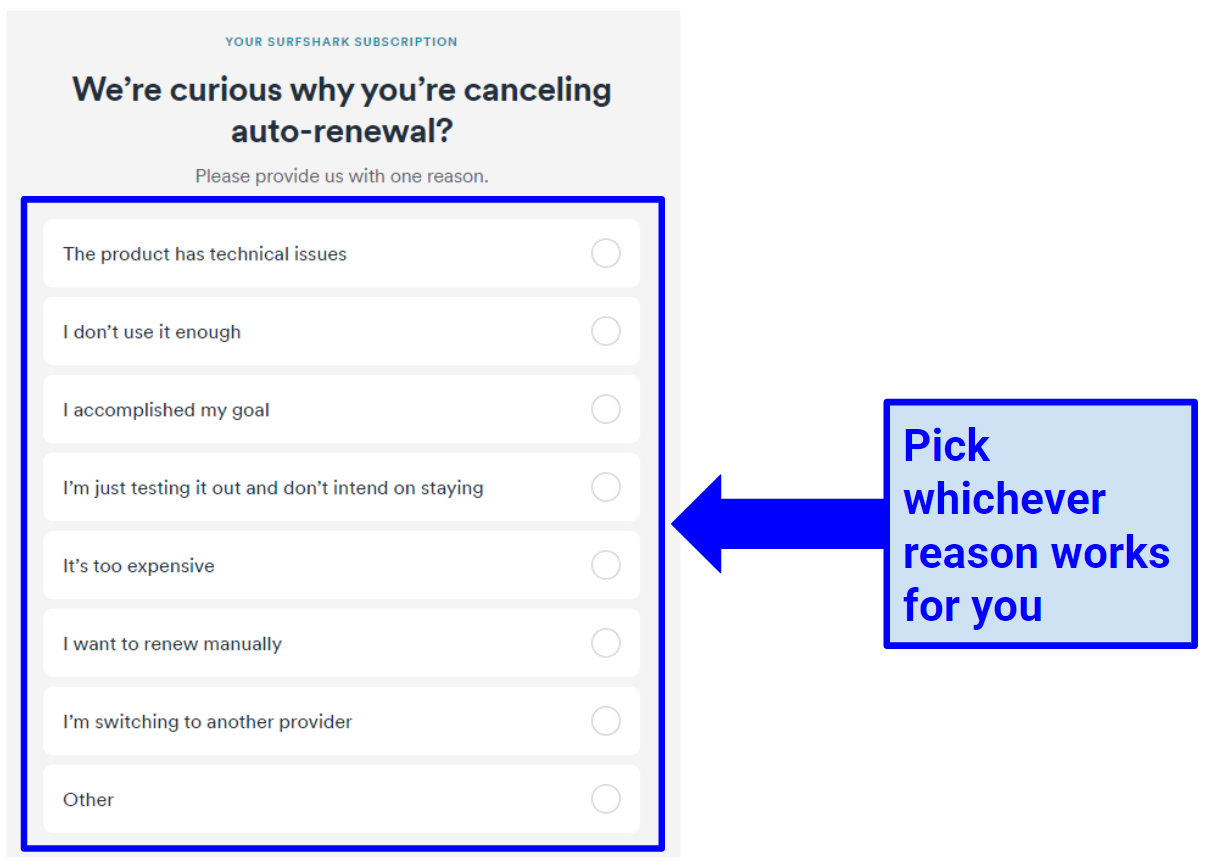 Confirm cancellation: Click on Submit and continue to cancel Surfshark and get a refund.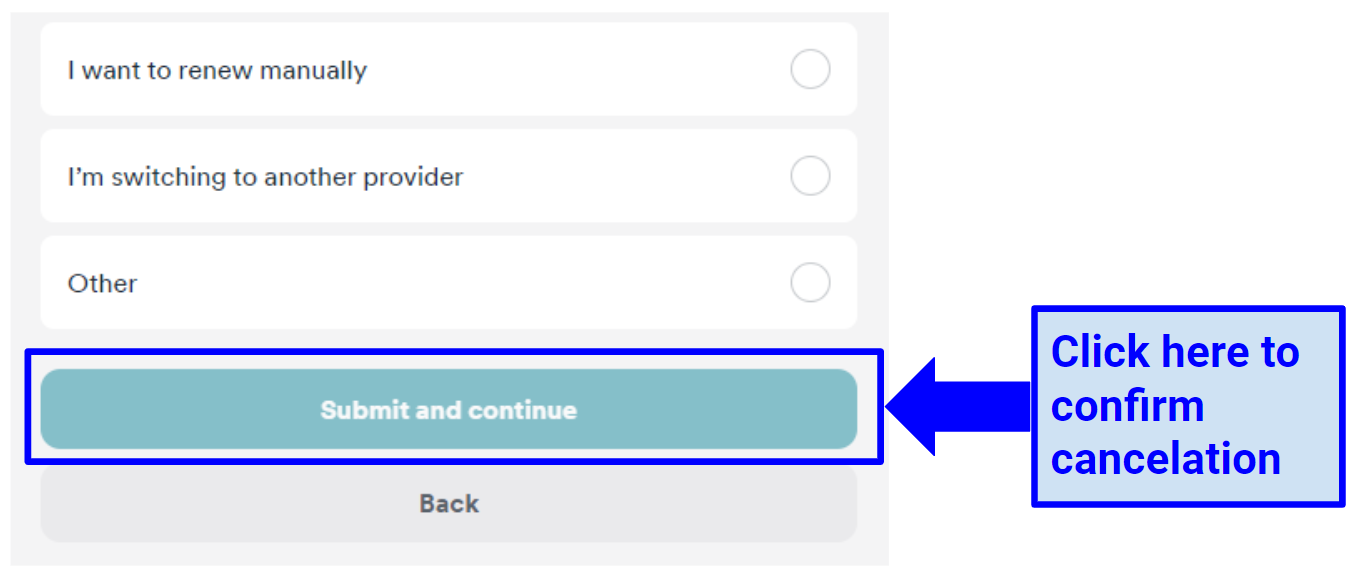 Wait for confirmation: Once your cancellation has gone through, you'll receive an email confirming the cancellation. If you cancel within the money-back guarantee period, you'll receive your refund within a few days. I got mine after 3 days.
How To Cancel Surfshark on Android
If you purchased a Surfshark subscription through the Google Play Store on an Android device, follow the steps below to cancel your subscription:
Go to Google Play Store account management: Open the Google Play Store app on your Android device, then tap on your profile picture to bring up the account management menu.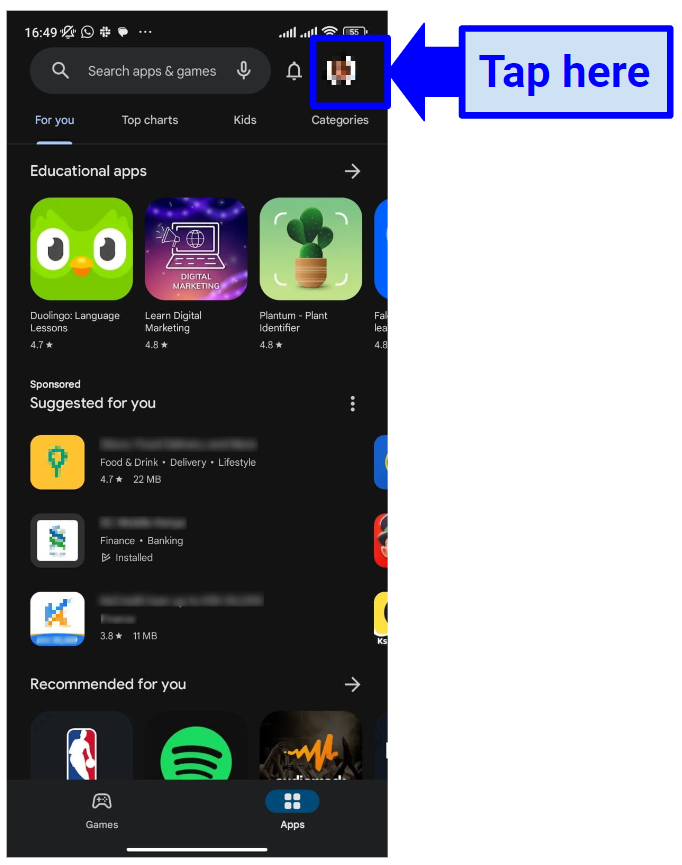 Manage subscriptions: Tap on the Payments & Subscriptions button, then tap on Subscriptions.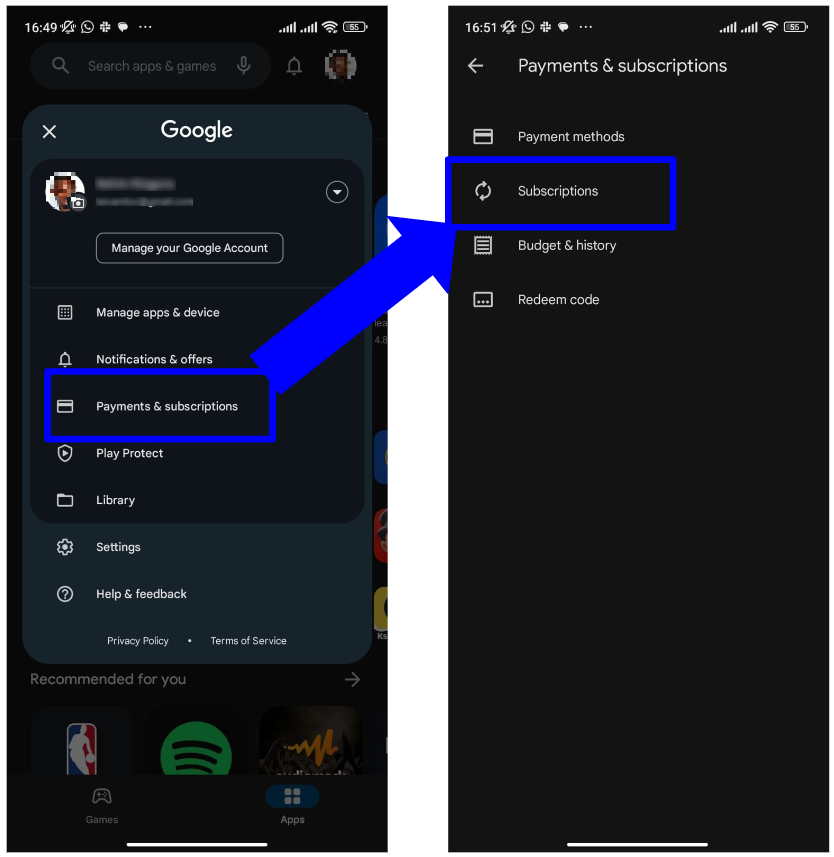 Cancel subscription: Scroll through your subscriptions till you find Surfshark, tap on it, then tap the Cancel subscription button. Follow the prompts on the screen to complete the process.
How to Cancel Surfshark on iOS
Follow the steps below to cancel your Surfshark subscription if you purchased your Surfshark iOS subscription through the Apple App Store:
Go to the purchases management page: Open the Settings app on your Apple device, then tap on your name to access the page that lets you manage your Apple ID, media, and purchases.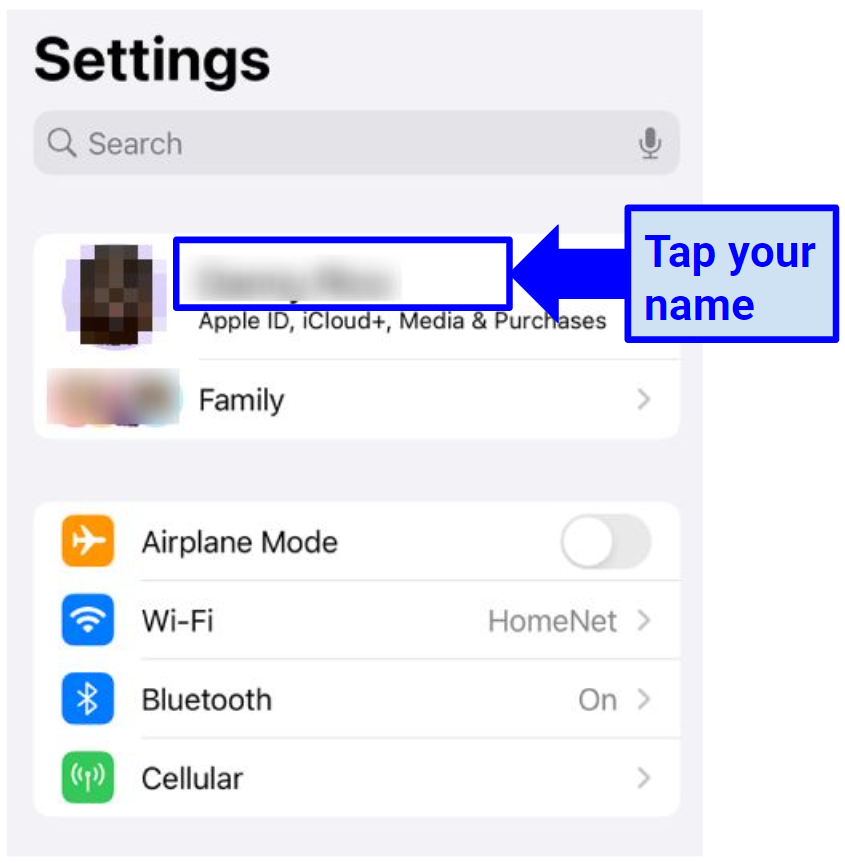 Cancel subscription: Tap on Subscriptions, find the Surfshark subscription, then tap Cancel Subscription.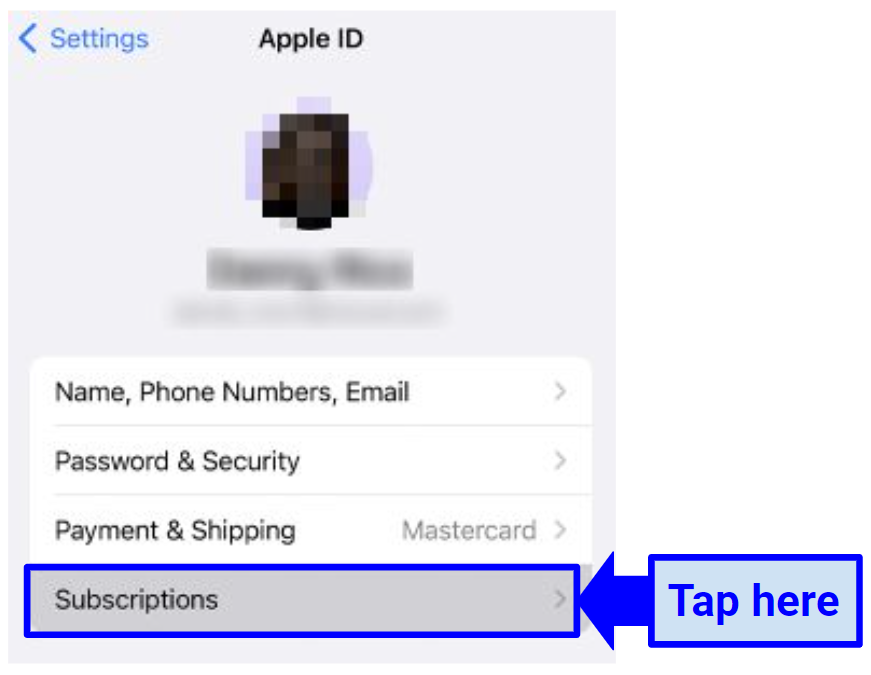 Confirm cancellation: Scroll down the page, then tap Confirm to finish the cancellation process.
Surfshark Refund Policy and Other Considerations
Surfshark offers a 30-day money-back guarantee on all plans, including the monthly plan, and across all platforms, including macOS, iOS, and Android. This means from the moment you first sign up, you have up to 30 days to test the VPN and all its features without risk. If you're unsatisfied with the VPN within this period, you can cancel Surfshark and get a full refund.
Note, however, that Surfshark is very strict with this period. Any requests made after the 30-day period has elapsed are not eligible for a refund, so you must decide whether to continue with the service or request a Surfshark refund within this timeframe.
Another great thing I noted is that Surfshark allows you to use the money-back guarantee twice. After canceling Surfshark and getting a refund the first time, you can still sign up again and request a refund within 30 days, provided 6 months have lapsed after the first refund. However, you can't ask for a refund after the second cancellation.
If you cancel your Surfshark subscription outside the refund period, you'll still have full access to the VPN and all its features until your subscription expires. However, you can't request a Surfshark refund for the remaining part of your service period.
Special Conditions That Void Surfshark's Money-Back Guarantee
It's a bit disappointing that Surfshark doesn't offer refunds on subscriptions bought through iTunes, App Store, or Amazon. Surfshark considers these third-party resellers, so purchases made through them are subject to the specific reseller's refund policy.
Your chosen payment method might also affect your likelihood of getting a Surfshark refund. For instance, subscriptions bought using gift and prepaid cards are not eligible for refunds. Other refunds, like cryptocurrency payments, might be subject to exchange rate fluctuations.
Other Important Notes and Tips When Canceling Your Surfshark Subscription
It's important to note that uninstalling the Surfshark app from your device does not actually cancel your subscription. To effectively cancel your subscription, you need to follow the specific Surfshark subscription cancellation procedures we covered above, depending on your device. Without doing so, Surfshark will continue charging you, even if you no longer use the VPN.
Additionally, it's also important to make sure you've disabled automatic payments. During the sign-up process, the auto-renewal feature is on by default, and most people leave it that way.
If you have no plans to continue using the VPN beyond your initial subscription period, you need to cancel recurring payments. Otherwise, you'll face unexpected charges when your subscription term ends and automatically renews.
To stop automatic renewal, simply follow the steps we covered above to cancel Surfshark VPN, depending on your device. After canceling, you'll still have access to Surfshark until your subscription expires, but it won't renew automatically afterward.
Best Surfshark Alternatives in 2023
Whatever your reasons for canceling your Surfshark subscription, it's not advisable to stay for long without a VPN. The longer you use the internet without one, the more you expose yourself to hackers, online snoops, and other online risks. Therefore, it's a good idea to try a reliable Surfshark alternative.
After testing dozens of VPNs, here are my 3 top alternatives to Surfshark:
ExpressVPN is the fastest VPN I tested, thanks to its proprietary Lightway protocol, which prioritizes performance, making it perfect for bandwidth-hungry tasks. I tested both ExpressVPNs and Surfshark's speeds, and while Surfshark also offers good speeds, it's not as consistently fast as ExpressVPN. This makes ExpressVPN the perfect choice whether you want to binge on your favorite shows, play online games, or download torrent files.
Its vast server network is also a huge plus. ExpressVPN has over 3000 servers in 105 countries. This extensive server coverage is greatly beneficial if you want to access content from various regions or need reliable access in countries with strict internet restrictions.
To ensure your online safety, ExpressVPN comes with AES 256-bit encryption, the same level used by the military and financial institutions. This makes it nearly impossible for anyone snooping on you to hack into your traffic and see what you're doing online. Additionally, it has a kill switch that prevents data leaks if the VPN disconnects accidentally, so there's no chance of anyone seeing your real IP.
ExpressVPN's strict no-logs policy guarantees your privacy as it doesn't record anything you do online. It also has hasRAM-only servers that delete any data associated with your browsing session after every reboot. Plus, being based in the British Virgin Islands, ExpressVPN operates free from data retention laws and prying eyes, ensuring your anonymity.
While not as fast as ExpressVPN, CyberGhost also delivers great speeds for a smooth and buffer-free online experience. It achieves this by regularly optimizing its network for enhanced performance. With CyberGhost, you can stream, download, or play games without annoying lags or slowdowns.
One of CyberGhost's standout features is its user-friendliness. Its intuitive interface simplifies the VPN experience, even if you're totally new to VPNs. From downloading the app to finding the right server, everything is pretty straightforward.
I also love that CyberGhost offers specialized servers tailored to specific tasks. It has dedicated streaming servers optimized for specific streaming services, including Netflix, BBC iPlayer, Hulu, Amazon Prime Video, Max, Fox, and dozens more. It also has specialized torrenting and gaming servers. These specialized servers enhance your online activities by ensuring the best performance for that specific task.
CyberGhost is also one of the few VPNs that come with an integrated ad blocker and malware blocker. This duo prevents unwanted ads from cluttering your browsing and safeguards you from malicious websites. This not only streamlines your online experience but also fortifies your defense against cyber threats.
If your main focus when looking for a Surfshark alternative is security, NordVPN is your best bet. Like most VPNs, it uses the impenetrable AES 256 encryption. It also has a double VPN feature, which routes your internet traffic through two servers, adding an extra layer of protection. If that's not enough security for you, it also has Onion over VPN, which combines NordVPN's network with the Tor network, making your online activities totally anonymous.
NordVPN's CyberSec feature acts as an additional shield against online threats by blocking malicious websites and intrusive ads, allowing you to browse and stream with complete peace of mind. There's also a kill switch to protect your IP address from accidental exposure.
I also found NordVPN's affordable pricing quite appealing. For as little as $2.99 a month, you can access all the security features I discussed above. Plus, it often runs promotions and discounts, making it even more pocket-friendly. 
FAQs About Canceling Your Surfshark Subscription with Refund
How long does it take to get a refund after canceling Surfshark?
Once your cancellation request is approved, getting a refund typically takes a couple of days, depending on the payment method you used. I got a refund on my PayPal account after 3 days, but Credit card refunds might take slightly longer.
Will I get a refund after canceling my Surfshark Subscription?
Yes, you'll get a full refund provided you cancel your subscription within 30 days of buying the subscription. Once this period has lapsed, you are no longer eligible for a refund. Additionally, it's good to note that if you purchased Surfshark through third parties such as Amazon and iTunes, the decision to issue a refund lies with the third party.
Is there a Surfshark VPN free trial?
Unfortunately, Surfshark doesn't offer a free trial. You must pay to use the VPN, but you get 30 days to try the Surfshark membership and all its features without risk. If it doesn't work for you, you can request a refund and get all your money back.
Can Surfshark deny my refund claim?
Provided you claimed a refund within the 30-day guarantee period, Surfshark is unlikely to deny your claim. However, there are some circumstances where a claim might be rejected. For example, if you've violated Surfshark's terms of service, you might not get a refund. Your claim might also be denied if you've received a previous refund or if you used a prepaid card or a gift card to pay for your subscription.
Will uninstalling Surfshark cancel my subscription?
Uninstalling Surfshark from your device doesn't automatically cancel your subscription; it only removes the Surfshark application from your device. Surfshark will continue billing you until your current subscription expires or until you cancel the subscription. To cancel Surfshark permanently, contact Surfshark's customer service team via live chat.
Conclusion
While Surfshark is a secure and reliable VPN, it's understandable if it isn't the right fit for you. Fortunately, you now know how to cancel Surfshark – simply contact the customer support team on the Surfshark website and ask them to cancel your account. If you do this within the 30-day money-back guarantee period, you'll even get a full refund.
After you cancel Surfshark, it's a good idea to find a suitable replacement to avoid leaving yourself vulnerable to cyber threats. Based on my tests, ExpressVPN is the best Surfshark alternative. It offers super-fast speeds, excellent security, an extensive server network, and a knowledgeable customer success team. Plus, it has a 30-day money-back guarantee, so you can give it a test drive without risk.