When it comes to canceling a subscription, the process can often become a cumbersome task, particularly with VPNs and their "30-day money-back guarantees." However, as a prominent player in the industry, ExpressVPN aims to provide users with a smoother experience. But just how straightforward is canceling an ExpressVPN subscription, and what are the necessary steps to follow?
In this comprehensive guide, we will provide you with clear and concise instructions, ensuring a hassle-free cancellation process for your ExpressVPN subscription. While we navigate through the steps, we must emphasize the importance of maintaining your digital security, advising against prolonged periods without a VPN. To assist you in finding a suitable alternative, we have curated a list of the best VPN services for your consideration.
A Quick Guide To Cancel Your ExpressVPN Subscription & Get Refund In The USA:
If you're in the USA and want to cancel your ExpressVPN subscription and get a refund, follow these simple steps for a hassle-free experience:
Visit the official ExpressVPN website and click on the 'My Account' tab at the top. Log in using your credentials.
Initiate a refund request by clicking on the live chat button located at the bottom-left corner of the screen. Contact the support team and request cancellation of your ExpressVPN account along with a refund.
Check the status of your ExpressVPN refund. Once your refund request is confirmed, the funds will be credited back to your bank account within a few business days.
A Step-By-Step Guide To Cancel ExpressVPN Subscription Through The Website
Use the following steps on how to cancel the subscription to get a refund from ExpressVPN:
Go over to the ExpressVPN website, click on "My Account"
Enter your account credentials to log in. You can also use the link in your email to log in easily.
Click on the Live Chat Support option to connect with the live chat representative. It takes only a few seconds to connect.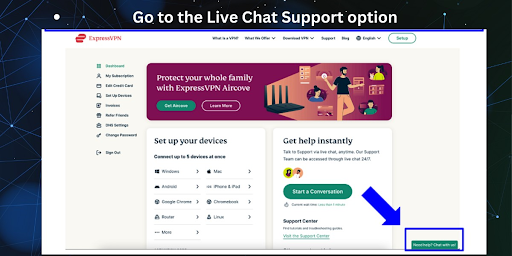 Request for your refund. Chat with the agent regarding the cancellation of the subscription.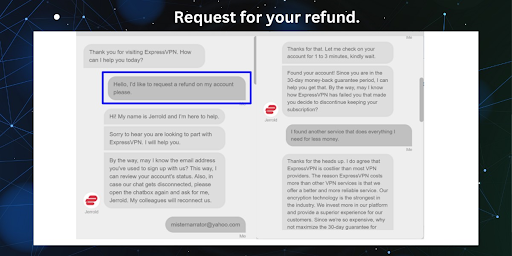 After the complete process, your refund will be confirmed within 4-5 minutes.
Step-By-Step Guide To Cancel Subscription Through Manage Subscription Settings
If you want to avoid ExpressVPN subscription from renewing automatically, you can choose the option to cancel it. Use the following steps to cancel your subscription and request a refund using the "Manage Subscription" Settings.
Head to the ExpressVPN website and click on the 'My Account' option at the top-right corner of the page.
Log in with your VPN credentials: Email ID and password.
Disable Automatic Renewal in the Manage Subscription Settings.
Contact ExpressVPN's customer support to request a refund.
Once confirmed, expect your refund within 7 days.
Be patient for the refund process. ExpressVPN aims to reimburse your payment within 7 days. PayPal users may experience faster processing, while credit card users should allow 3 to 5 business days.
Remember, you have a 30-day window to request a refund, and the quickest way to do so is through their 24/7 live chat support. You can also reach out to their customer support representatives via email at support@expressvpn.zendesk.com.
How To Cancel The Subscription Of ExpressVPN On IPhone?
To cancel your ExpressVPN subscription on your iPhone or any other iOS device, follow these steps:
Sign in to your Apple App Store account using the same credentials used to acquire your ExpressVPN subscription.
Navigate to your list of Subscriptions.
Locate the ExpressVPN subscription and select it.
Choose the option to Cancel the Subscription.
Confirm the cancellation by pressing the Confirm button.
After canceling, if you wish to request a refund, visit reportaproblem.apple.com.
Log in to your account and locate your ExpressVPN subscription.
Click on 'Report a Problem' and submit a refund request.
Please note that while you can mention the VPN's 30-day money-back guarantee, Apple is not obligated to honor it.
How To Cancel The ExpressVPN Subscription On Android/Google?
To initiate a refund after canceling your ExpressVPN subscription through Android/Google, follow these steps:
Open the "Google Play Store" app and tap on the circular icon located at the top-right corner to access your account details.
Select "Payments and Subscriptions" to view all your payment-related information.
Navigate to "Subscriptions," where you will find your ExpressVPN subscription listed.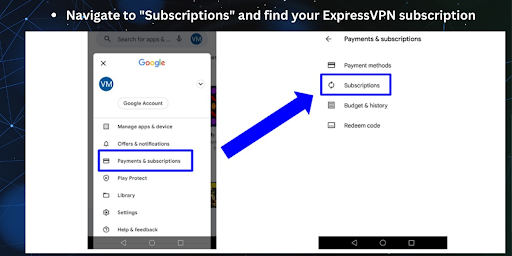 Tap on "Cancel Subscription" to complete the cancellation process.

Request a refund from ExpressVPN, while also exploring the features and functions of VPN servers. Visit ExpressVPN's website and utilize the live chat feature to submit your refund request, following the aforementioned steps.
Keep in mind that when you sign up through the Play Store, billing is handled by Google and not directly by ExpressVPN. However, you are still eligible for the 30-day money-back guarantee.
Remember, canceling your subscription through Android/Google is just the first step. Be sure to reach out to ExpressVPN for the refund process.
How To Cancel ExpressVPN If Paid By BitRay?
To cancel your ExpressVPN subscription paid through BitPay, please follow these steps:
Visit the ExpressVPN website and log in to your account.
Navigate to the "Account" or "Subscription" section.
Locate the payment method details and verify if BitPay is listed.
If BitPay is listed, identify the transaction or payment ID associated with your subscription.
Contact ExpressVPN customer support using the live chat, email, or support ticket system.
Provide the necessary information, including your account details and the BitPay transaction ID.
Request the cancellation of your ExpressVPN account and seek assistance with the refund process.
Follow any additional instructions provided by the customer support representative to complete the cancellation and refund procedure.
Ensure that you provide accurate and complete information to facilitate a smooth cancellation process.
By following these steps and providing the required information, you will be able to cancel your ExpressVPN subscription paid through BitPay and receive the necessary assistance with the refund process.
How To Cancel The Subscription If Paid By Credit Card Or PayPal?
To cancel your ExpressVPN subscription if you paid with a credit card or PayPal, follow these steps:
Visit ExpressVPN's website and click on the "My Account" option at the top to access the sign-in page.
Sign in to your ExpressVPN account using your email ID and password, then click "Sign In."
Go to your Account Details and Subscription. In the left-hand menu, select "My Subscription" and then "Edit Subscription Settings."
Disable Auto-renewal. On the automatic renewal settings page, click on "Turn Off Automatic Renewal." Follow the subsequent steps until you receive confirmation that your subscription has been canceled.
NOTE - You will still be able to use your account until the current subscription period expires.
How To Cancel A Free Mobile Trial?
To cancel a free mobile trial of ExpressVPN, follow these detailed steps:
Open the ExpressVPN app on your mobile device.
Log in to your account using the credentials you provided during the trial sign-up process.
Once logged in, navigate to the account or subscription settings within the app. The specific location may vary depending on the app version and platform.
Look for the option to manage your subscription or trial settings. It may be labeled as "Subscription," "Account," or "Membership."
Tap on the subscription or trial settings to access the details of your current trial.
Within the trial settings, you should find an option to cancel or end the trial. It may be labeled as "Cancel Trial" or "End Trial."
Follow the on-screen prompts or instructions to confirm the cancellation of your free trial. The app may ask for confirmation or additional information to complete the cancellation process.
After confirming the cancellation, you should receive a notification or confirmation message indicating that your free trial has been canceled successfully.
It's essential to keep track of the trial end date and cancel it before the trial period expires to avoid any charges or automatic subscription conversion.
Note: The steps mentioned above are general guidelines. The exact process may vary depending on the specific version of the ExpressVPN app and the mobile platform (iOS, Android, etc.) you are using.
What Are The Steps To Take After Canceling Your Subscription In The USA?
Once you have canceled your ExpressVPN subscription in the USA, it is recommended to follow these steps for a seamless transition:
Verify the cancellation
Make sure to receive confirmation of the cancellation from ExpressVPN. This confirmation can be in the form of an email or a notification within your account.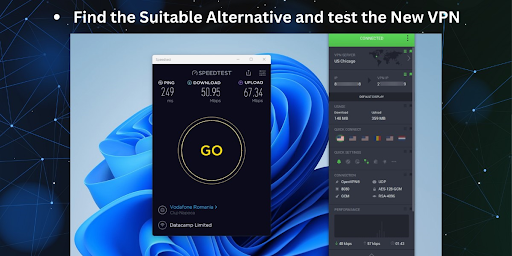 Remove the VPN application
Uninstall the ExpressVPN application from all your devices to eliminate any potential lingering connections or conflicts.
Find a suitable alternative
If you still require VPN services, research and select an alternative VPN provider that aligns with your privacy and security needs. Look for providers with positive user reviews and a focus on privacy and security.
Set up the new VPN
Test the new VPN
Verify the functionality of the new VPN by connecting to different servers and checking for any performance or connectivity issues.
Update affected settings
If you made any changes to your network or device settings to accommodate ExpressVPN, revert them to their original configurations or adjust them as necessary for the new VPN.
Enhance overall online protection
Remember that a VPN primarily safeguards your internet connection. Consider implementing additional security measures such as using strong passwords, enabling two-factor authentication, and keeping your devices and software up to date.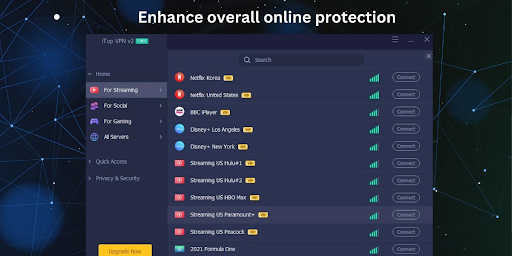 By following these steps, you can smoothly transition from ExpressVPN to an alternative VPN provider while maintaining your online privacy and security.
Get a Full Refund from ExpressVPN's Money Back Guarantee in the USA: Steps to Cancel and Return Your Subscription
To initiate a full refund using ExpressVPN's money-back guarantee in the USA, adhere to the following steps:
Contact ExpressVPN Customer Support Within The Specified Time Frame
Get in touch with ExpressVPN's customer support team within the designated period, usually within 30 days of your initial purchase, covered by their money-back guarantee.
Request A Refund
Clearly communicate your intention to cancel the subscription and emphasize your desire for a full refund. If necessary, provide reasons for your dissatisfaction with the service.
Follow Customer Support Instructions
ExpressVPN's customer support will provide guidance on the refund process. They may require specific information or offer detailed instructions to initiate the refund.
Complete The Necessary Steps
Cooperate with any additional requirements outlined by ExpressVPN to facilitate the refund process. This may involve providing account details, proof of purchase, or other relevant information.
Await The Refund
Once you have fulfilled the necessary steps, await confirmation from ExpressVPN regarding your refund. While the processing time may vary, you should receive your refund within a reasonable timeframe.
What Is The Refund Policy Of ExpressVPN?
ExpressVPN offers a comprehensive refund policy to all its customers. If you decide to cancel your subscription within the first 30 days, you are eligible for a full refund. ExpressVPN prides itself on a hassle-free and stress-free refund process, requiring only a simple explanation of the issues you have encountered.
It's important to note that there is one exception to the refund guarantee. If you upgrade your account or add a license within the initial 30-day period, this action will waive the guarantee. Be mindful of this condition before making any changes to your subscription.
Furthermore, it's crucial to understand that the guarantee explicitly covers a duration of "30 days," which may not align precisely with a calendar month. Stay vigilant to avoid any confusion or misunderstandings.
For customers who have exceeded the initial 30-day period, there may still be possibilities to claim a refund in certain cases. According to ExpressVPN's terms of service, refunds can be considered if you can demonstrate that the service was unavailable or unusable during your subscription period, and you made reasonable attempts to contact ExpressVPN to address the issue.
By understanding these refund policies and guidelines, customers can make informed decisions, and those who have surpassed the initial 30-day period can explore the potential options for refunds based on the specific circumstances of their situation.
What Are The Reasons That You May Not Get Your Refund?
While most companies offer hassle-free refunds, there are some common reasons your refund request may be denied. We outline scenarios where refunds may not be possible, like passing the refund deadline, damages caused by improper use, or refund abuse. Understanding the refund policies and limitations can help ensure your request is eligible and avoid unexpected denials.
There are several factors to consider when it comes to refunds with ExpressVPN:
Refunds For Apple App Store Purchases:
If you have acquired ExpressVPN through the Apple App Store, please note that 30-day refunds are not issued for in-app purchases on Apple devices. To request a refund, you will need to follow the appropriate process through the Apple Store.
Meeting Refund Criteria:
ExpressVPN requires evidence of service problems and communication about those issues in order to process a refund. If there is no documented evidence or notification provided to ExpressVPN regarding service problems, your refund request may be denied.
Paypal-Related Issues With Auto-Renewal Cancellation:
Some customers have experienced difficulties with cancellations due to PayPal blocking the auto-renewal process. To avoid such issues, we recommend manually stopping IPNs (Instant Payment Notifications) when requesting a refund.
Completion Of The Refund Process:
It's important to ensure that the entire refund process is completed correctly. If you have missed any steps, particularly the "Turn off auto-renewal" buttons mentioned earlier, your refund may not have been processed. Double-check to confirm that you have followed all the necessary procedures to avoid any premature termination of the process.
Considering these factors will help you navigate the refund process with ExpressVPN and increase the chances of a successful and timely refund.
What Are The Best Alternatives Of ExpressVPN?
We evaluate the features, capabilities, and limitations of alternative options to help you determine if there is a better solution suited to your needs and use cases. Key factors like cost, ease of use, and customer support are analyzed to find the best alternatives.
NordVPN
NordVPN is the ultimate choice for those prioritizing security and privacy. Based in Panama with diskless servers, NordVPN's strict no-logs policy ensures your data remains truly protected. With lightning-fast connection speeds and the ability to effortlessly unblock streaming services like Netflix, NordVPN offers a comprehensive package. All of these features are available at an incredibly affordable price of $3.49/month.
SurfShark
SurfShark stands out as one of the most budget-friendly VPN options available. Despite its affordable price, SurfShark maintains a high level of service, delivering fast speeds and strong security features. Whether you're streaming content on Netflix, engaging in torrenting activities, gaming, or safeguarding yourself against cyber threats, SurfShark proves to be a reliable choice for all your online activities.
CyberGhost
CyberGhost is another recommended alternative to ExpressVPN. It offers a user-friendly interface, making it easy for beginners to navigate. With an extensive network of servers worldwide, CyberGhost ensures fast and reliable connections. The VPN is known for its strong security features, including robust encryption and a strict no-logs policy. CyberGhost provides a range of subscription plans at competitive prices, making it a great choice for those seeking a reliable VPN service.
The Bottom Line
Ensuring your privacy online should never be compromised with sub-par VPN services. Although ExpressVPN is generally reliable, occasional issues may arise, which is why they provide a 30-day money-back guarantee. As demonstrated, the process of claiming a refund is straightforward.
However, settling for underwhelming performance is not an option. If ExpressVPN fails to meet your expectations, take action now and request your refund to explore better alternatives. Your online privacy deserves nothing but the best.